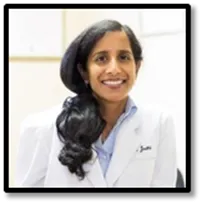 Dr. Jasthi graduated from Tufts Dental School in 1996. Dr. Jasthi has been practicing for over 22 years. She has been in her current location for 18 years. Since she began practicing dentistry, Dr. Jasthi has kept up to date on many continuing educational classes, ensuring that her patients receive the most comprehensive and advanced dental care.
You'll love the personal attention we give to your comfort and appearance. And you'll appreciate our use of the latest materials, modern treatment techniques and our pleasant relaxed environment.
Credentials:
Dr. Neeraja Jasthi has trained with some of the world's most prominent cosmetic dentists.
She is rapidly becoming known as a leading Tampa cosmetic dentist. Her experience and knowledge in Tampa cosmetic dentistry is nothing short of the very best.
Memberships:
American Dental Association
Florida Dental Association
Academy of General Dentistry
American Academy of Cosmetic Dentistry
---
Dr.
Dr Linda Park earned her Doctor of Dental Surgery degree in 2005 from Loma Linda University School of Dentistry in California. During her dental education she was involved in a dental mission to Peru and Southern California. Since graduating, Dr. Park has continued to stay active with local volunteer programs in Florida, such as: Mission of Mercy in Tampa and Orlando, The Dental Care Access Foundation, and Stars, and Stripes and Smiles, a dental care veterans event. She is an active member of American Dental Association and Florida Dental Association. Dr. Park's commitment to lifelong learning and patient care has led to participation in additional continuing education. Highlights include advanced education courses from the Pankey Institute and the American Academy of Implant Dentistry Maxicourse.